Audiences have been inspired, uplifted and enthralled by some powerful depictions of teachers in film, showcasing their deeply profound influence. Many of these pictures follow the educators as they help shape and mold their pupils, providing them with invaluable motivation and encouragement along the way. These stories and characters are emotionally stirring and refreshing, and leave viewers with the wisdom and positive lessons they helped instill within their students. Films that shine a light on the real-life role models and heroes like teachers are often not celebrated enough, but there have been many notable examples of such important presences throughout cinema history, creating some of the most heroic characters who aren't superheroes.
Few can possibly forget the riveting and impassioned performance Robin Williams delivered in the beloved classic Dead Poets Society, just like moviegoers marveled at Jack Black's rocking portrayal of a musician-turned-substitute-teacher in the hilariously heartwarming comedy School of Rock. These are the best movies about teachers.
9

Mona Lisa Smile

The 2003 drama Mona Lisa Smile features a vibrant cast of Hollywood's finest actresses including Julia Roberts, Kirsten Dunst, Julia Stiles, and Maggie Gyllenhaal, and follows a free-spirited art professor who teaches a group of conservative girls to question their traditional social roles at Wellesley College in the 1950s. Roberts stars as Katherine Ann Watson, a forward-thinking and modern woman who accepts a position teaching art history at the prestigious private school and pushes her bright students to reach their full potential.

Related: Best Julia Roberts Movies, Ranked

The Oscar-winning actress revealed it was easy to connect with the progressive character, saying, "I liked the fact that she was someone who had latched onto an idea and felt a strong conviction about one that was very new at that point. At that time, not a lot of people were saying: Look further, explore your options and expect more. It was a new cry for women. "
8

The Great Debaters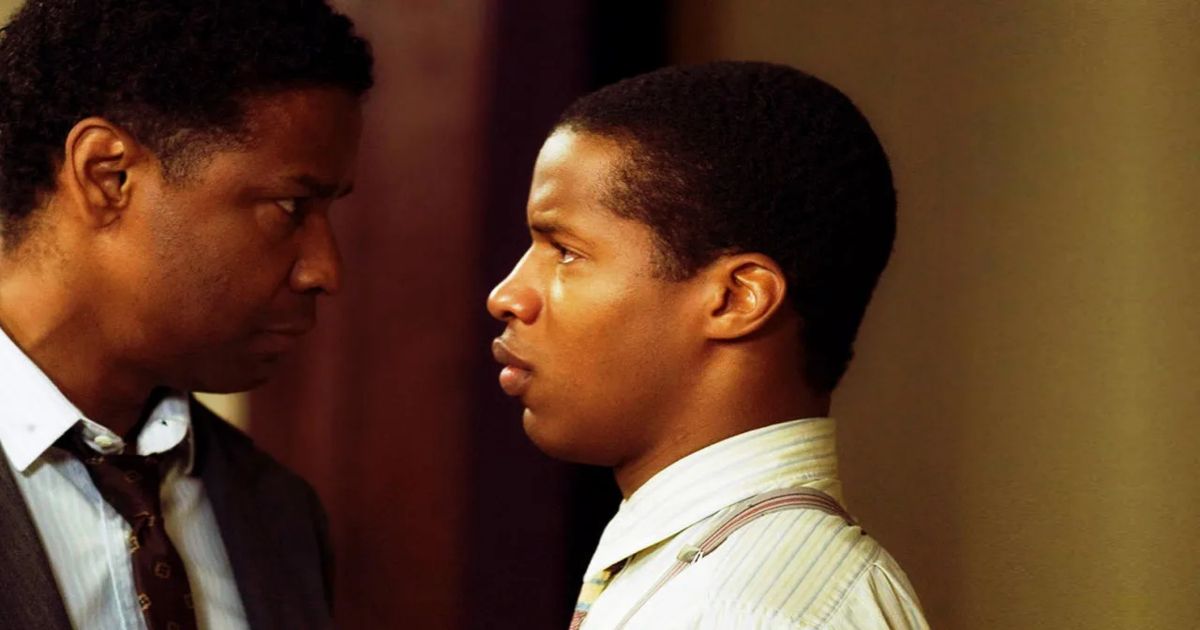 The distinguished Denzel Washington headlines and directs the 2007 biographical drama The Great Debaters, in which the acting legend portrays real-life poet and educator Melvin B. Tolson, a professor at Wiley College Texas who inspired his students to form their first debate team in 1935. Based on an article written by Tony Scherman for the American Legacy, the picture showcases Tolson's efforts to place his debate team from the historically black college on an even playing field with whites in the American South, where Jim Crow laws ran rampant.
The emotionally-driven film showcases the team as they are eventually able to debate Harvard University, while exploring the social constructs during the Great Depression. The Great Debaters earned rave reviews from critics and won numerous Image Awards including Outstanding Motion Picture; the Washington Post called it, "A rouser, a stunner, almost a jubilee of emotion and suspense by the old standards of Hollywood melodrama, circa the time the actual events themselves took place."
7

Stand and Deliver
Edward James Olmos received an Academy Award nomination for his portrayal of high school mathematics teacher Jaime Escalante, who successfully inspired his drop-out prone students to learn calculus in the 1988 drama Stand and Deliver. It follows the educator as he adopts unconventional teaching methods to help gang members pass the difficult Advanced Placement exam in calculus, showing the young minds that they could control their futures with the right education; it actually makes math look cool.
Stand and Deliver earned critical acclaim upon its release, and in 2011 was selected for preservation in the United States National Film Registry for its cultural significance. For the film's 25th anniversary, Olmos discussed the uplifting drama's legacy with the Huffington Post, saying: "Most students see it at least once before leaving high school. Sometimes they see it two or three times in school. The usage of the film by teachers has been incredible. And it's because of the story. It's an inspirational piece. It's uplifting and it's not only inspiring for the kids but for the teachers too. "
6

To Sir, with Love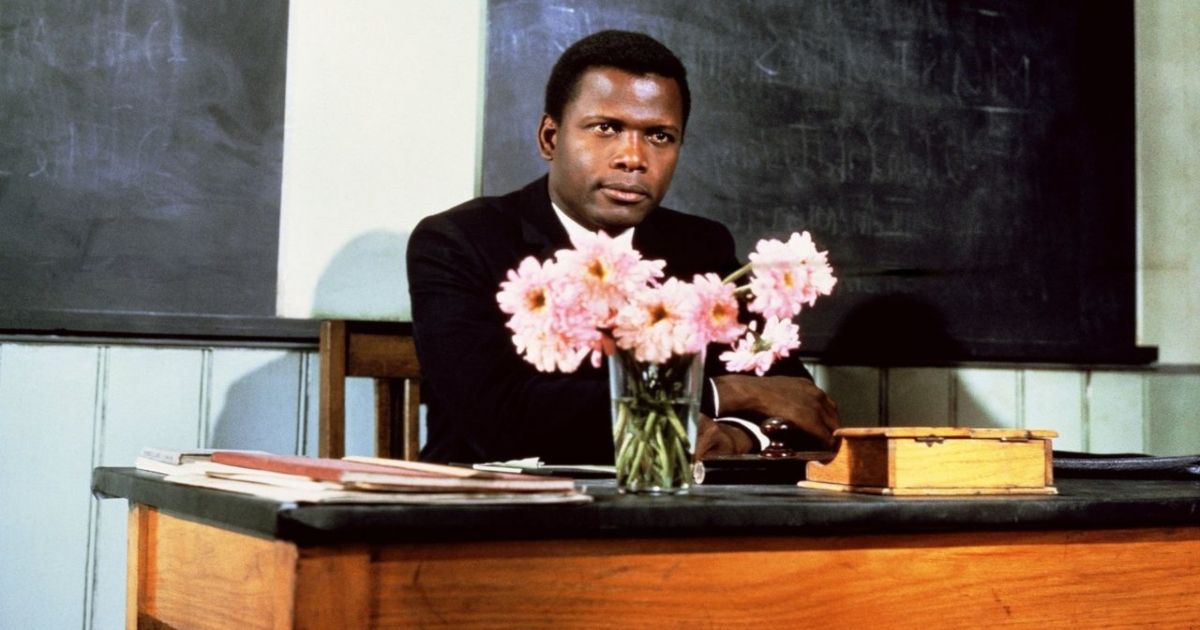 The highly revered silver screen legend Sidney Poitier stars in the 1967 British drama To Sir, with Love, which follows idealistic engineer-trainee Mark Thackeray and his experiences teaching a group of boisterous white high school students from the slums of London's East End. The movie is based on ER Braithwaite's autobiographical novel of the same name, drawing inspiration from the author's struggles to teach in a tough secondary school in a poor area of ​​1950s East London.
Poitier delivers an endearing and stirring performance as Thackeray, as he helps to change the thinking of his rebellious students by refusing to allow them to break his spirit and instead connects with his pupils on a personal level. To Sir, with Love remains a staple film from the adored actor and his portrayal of the educator was praised, and in 2015 was ranked on Entertainment Weekly's list of the 50 Best High School Movies.
5

Half Nelson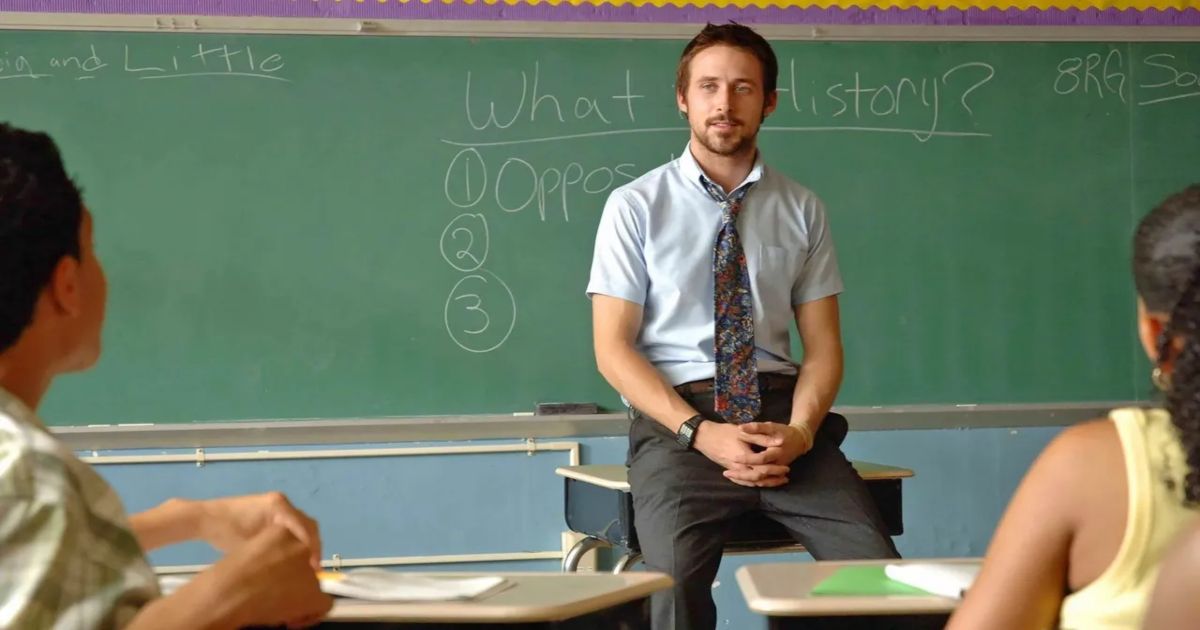 Ryan Fleck's 2006 drama Half Nelson stars Ryan Gosling as an inner city middle-school teacher with a drug habit who forms a friendship with a student after she discovers his secret. Gosling's Dan Dunne is a history teacher and girls basketball coach who is well-liked by his students and colleagues but a mess in his personal life, struggling with his addictions and even being caught by a student using illicit drugs in the girls' locker room. The pair eventually develop an unexpected friendship due to the other's inner turmoil, providing unexpected support that they both desperately crave.
To prepare for one of Gosling's most underrated movie roles, the actor moved to New York for one month prior to shooting, lived in a small Brooklyn apartment and spent time shadowing an eighth grade teacher. Half Nelson was heralded by critics and earned the gifted actor an Academy Award nomination for his haunting and beautiful performance, with the Los Angeles Times writing, "Made with assurance, restraint and psychological acuity by director Ryan Fleck and anchored by Ryan Gosling's commanding performance, this paradigmatic American independent feature approaches recurring themes in a compelling new way."
4

Mr. Holland's Opus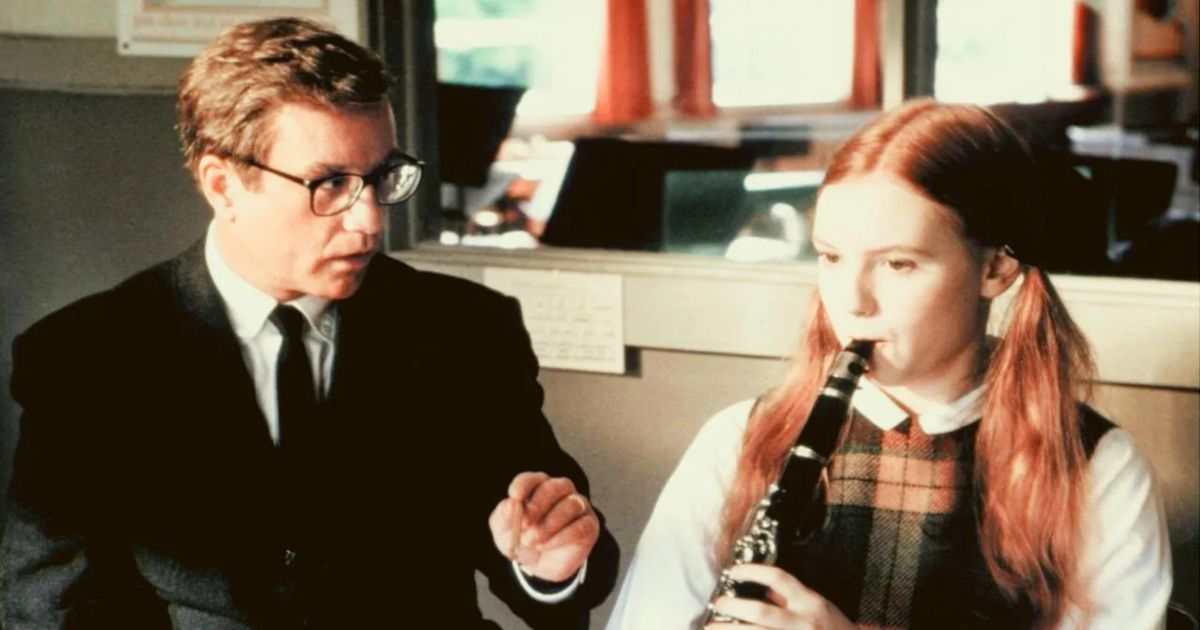 Richard Dreyfuss portrays the title role in the 1995 drama Mr. Holland's Opus, appearing as dedicated high-school music teacher Glenn Holland, who attempts to compose his own music while struggling to find a balance between his job and life with his wife and deaf son. Over the course of his 30-year career in education, Holland learns and grows alongside his ever-changing group of students and proves how teachers can inspire and mold the lives of their pupils in astonishing ways.
Dreyfuss' noteworthy performance garnered positive praise and appreciation, earning both a Golden Globe and Academy Award nomination while Mr. Holland's Opus was a knockout at the box office with moviegoers. Motivated by the film, its composer Michael Kamen founded The Mr. Holland's Opus Foundation in 1996 to promote music education and in over 24 years, the foundation has donated more than 33,000 instruments to over two million students.
3

School of Rock
Funnyman Jack Black stars in arguably his greatest role and film in the 2003 comedy School of Rock, in which he plays struggling rock guitarist Dewey Finn, who is fired from his band and decides to pose as a substitute teacher at a prestigious prep school. After he witnesses the musical gifts of his students, Dewey forms a band of fourth-graders in an effort to win the upcoming Battle of the Bands and use the cash prize to pay his rent, but along the way develops strong friendships with his students and helps them learn to love themselves.
Related: Kung Fu Panda: The Dragon Knight Series Announced on Netflix, Jack Black to Return
The movie's writer and co-star Mike White (of White Lotus fame) wrote School of Rock specifically for Jack Black, who at the time he frequently collaborated with and was neighbors with for three years. White wanted to create the role so that Black could perform his own favorite rock music; he told Glide Magazine: "Jack is a great performer, a terrific musician and the perfect antihero. He's kind of unhinged in that really fun way Willy Wonka is, and I kept having this idea about him jamming around with a bunch of kids. " School of Rock was a massive hit with both critics and audiences, and its success led to a Broadway musical and Nickelodeon television adaptation.
2

Election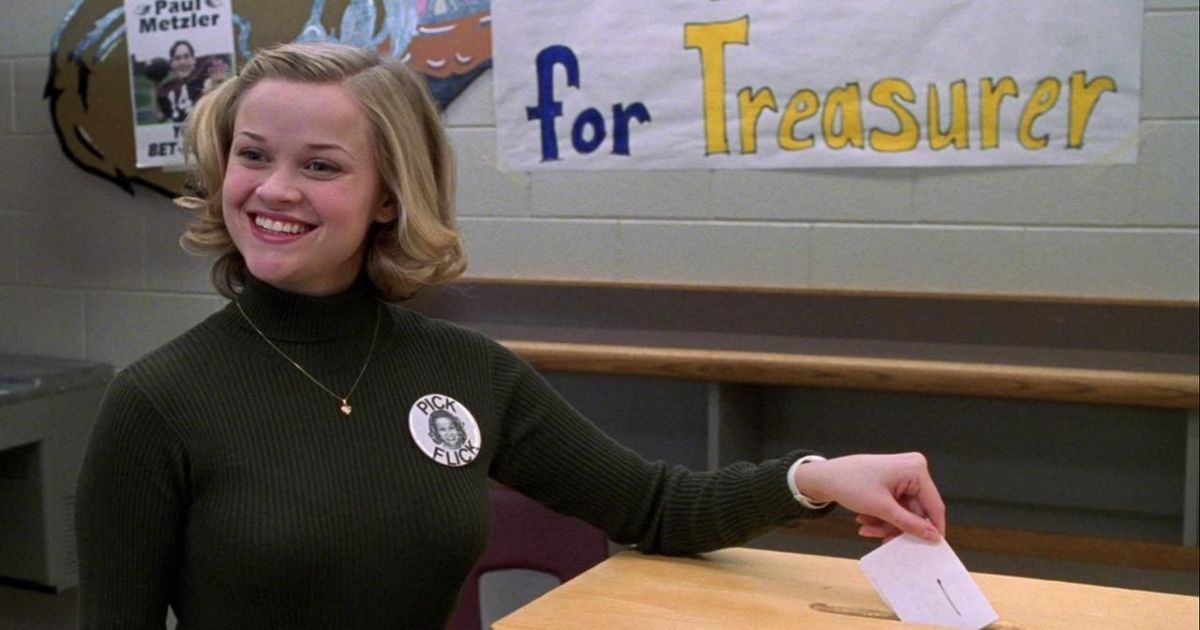 The talented Matthew Broderick and Reese Witherspoon teamed up for the 1999 black comedy Election, centering around a student body election while satirizing politics and high school life. In the critically acclaimed picture, Broderick portrays popular high school social studies teacher Jim McAllister, who decides to sabotage the overachieving Tracy Flick (Witherspoon) he strongly dislikes when she runs for student government president; naturally, a battle of wits and a power struggle ensues.
Broderick and Witherspoon shine as the dueling duo, with the actress earning rave reviews for her portrayal of the conniving and cutthroat Flick; she earned her first Golden Globe nomination and the character has since been considered a cultural icon and has inspired countless creations. Roger Ebert praised the black comedy, writing: "… here is a movie that is not simply about an obnoxious student, but also about an imperfect teacher, a lockstep administration, and a student body that is mostly just marking time until it can go out into the world and occupy valuable space. "
1

Dead Poets Society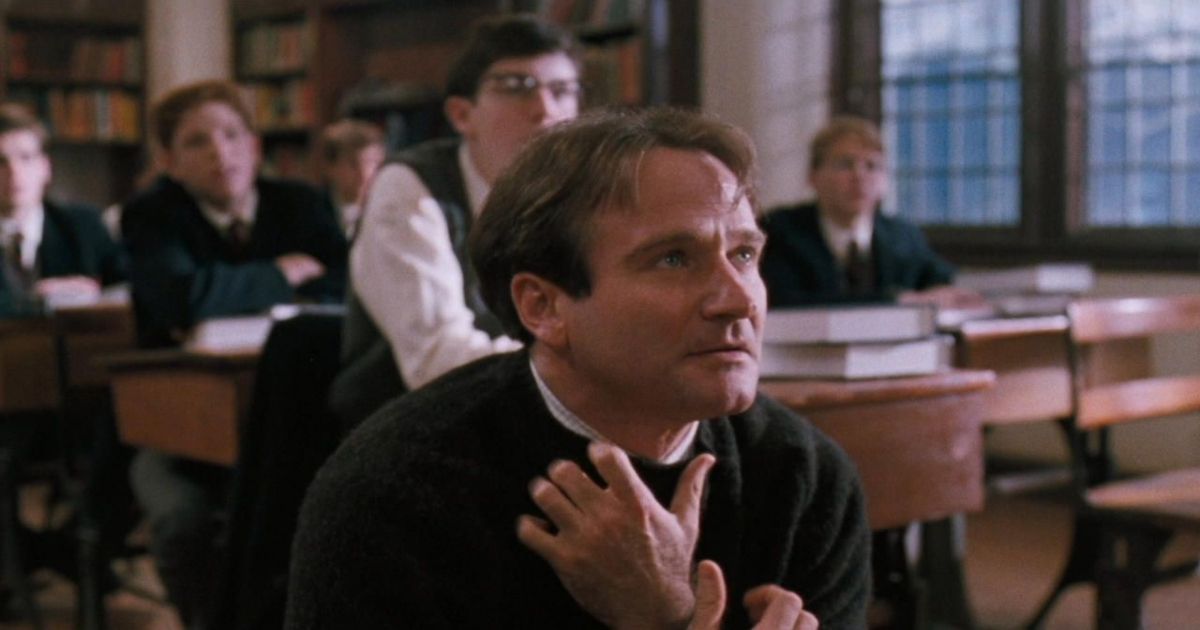 One of cinema's most inspiring pictures of all time, the 1989 dramedy Dead Poets Society features the adored Robin Williams as spirited English teacher John Keating, who uses poetry to embolden the students of an elite boarding school in 1959 Vermont. The moving drama also follows the painfully shy Todd Anderson and popular Neil Perry who, along with their classmates, become enamored by the musings and lessons of the encouraging Keating.
The famous scene in which his students passionately recite "O Captain! My Captain "to the educator is one of the most beloved and uplifting montages in movie history, and would go on to inspire future generations and become a part of pop culture. Williams portrayal earned him an Academy Award nomination and is without a doubt one of the actor's most cherished roles; when the actor passed away in 2014, his fans used social media and paid tribute to Williams by reenacting the powerful final "O Captain" scene.
Ethan Hawke Recalls Heartwarming Robin Williams Story from Dead Poets Society
Read Next
About The Author