The sensational acting chameleon Jeff Bridges is a fearless performer who has starred in a wide array of critically acclaimed and beloved pictures. Having first made a splash in Hollywood with his Academy Award nominated performance in the 1971 revered coming-of-age drama The Last Picture Show, the actor went on to amass an eclectic and impressive film repertoire that highlights his innate gift to tackle any genre thrown his way. With a career spanning over six decades, Bridges has starred in critically acclaimed films like Tron, The Big Lebowski, True Grit, and Hell or High Water, and won the Academy Award for his commanding performance as an alcoholic country singer in 2009's Crazy Heart.
The dynamic star comes from a prominent family of both television and cinematic talents, with his father Lloyd Bridges having been a decorated actor appearing in over 150 films and brother Beau being a three-time Emmy winner and renowned actor and director. Jeff Bridges has worked with some of the greatest and most praised filmmakers, having frequently collaborated with the Coen brothers in multiple memorable pictures as well as visionaries like Jon Favreau and Peter Bogdanovich. He is set to appear in the upcoming FX thriller television series The Old Man alongside Jon Lithgow and Amy Brenneman. These are the best Jeff Bridges movies.
9

Tron

A cinematic triumph for its groundbreaking visuals and dazzling performances, the 1982 sci-fi adventure flick Tron stars Jeff Bridges as Kevin Flynn, a renowned computer engineer who makes the troubling discovery that a higher-up at his company has been stealing his work; when he attempts to hack into the system, Flynn is transported inside the digital world where he is forced to partake in gladiatorial games.

Director Steven Lisberger was fascinated by the concept of video games and wanted to find a way to incorporate them on the big screen, taking inspriation for the film's premise of entering a parallel world from the classic Alice in Wonderland tale. Tron was a revolutionary film upon its release and has since become a cult classic of the '80s, having proven to the entertainment industry the profound potential of computer-generated imagery. The sci-fi picture launched a multimedia franchise, and the 2010 sequel Tron: Legacy featured Bridges reprising his role.
8

The Fisher King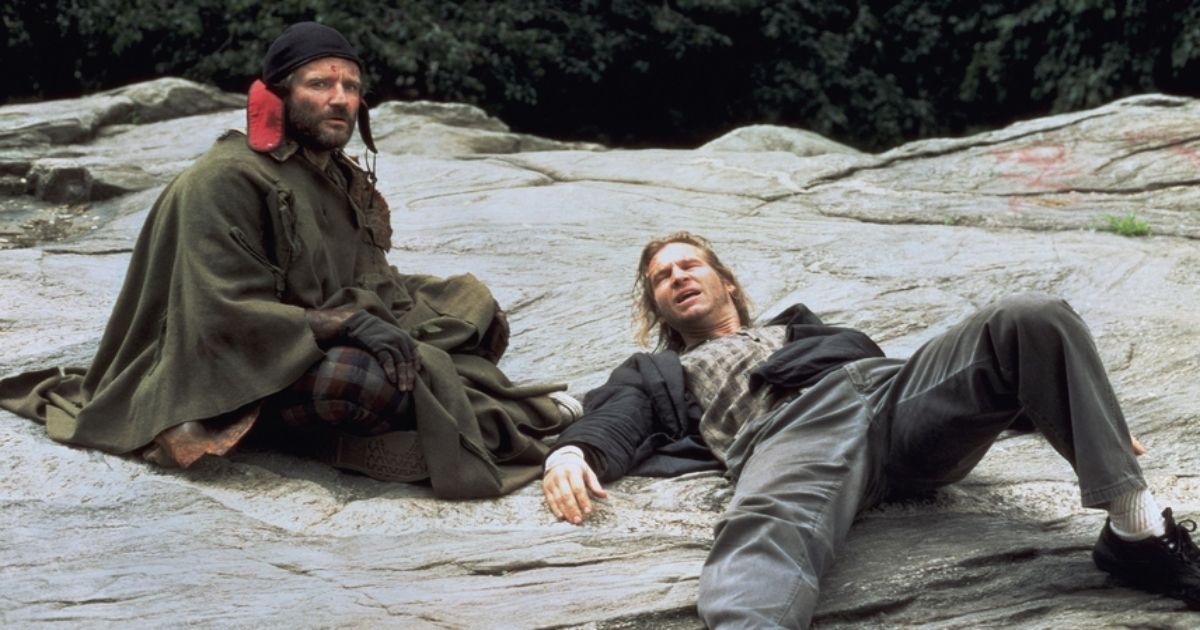 Jeff Bridges appeared alongside the beloved Robin Williams in the 1991 fantasy dramedy The Fisher King, which follows the severely depressed radio shock jock Jack Lucas (Bridges), who inadvertently causes an unhinged caller to go on a murderous rampage in a Manhattan bar. Lucas finds hope for redemption when he meets a homeless man named Parry (Williams), who lost his wife from the horrific crime.
Directed by the esteemed Terry Gilliam, the moving picture features heartfelt performances by the two gifted actors, whose characters develop an unpredictable bond in the wake of the tragedy; Williams went on to earn an Academy Award nomination for Best Actor. When discussing the experience of filming alongside his two tremendous leads, Giliam recalled, "Robin was right there from the get-go… We could just wind each other up brilliantly and just get extremely silly. Jeff was the anchor, that's why Jeff was so important; he became the anchor to keep the whole film, myself, Robin grounded. "
7

Iron Man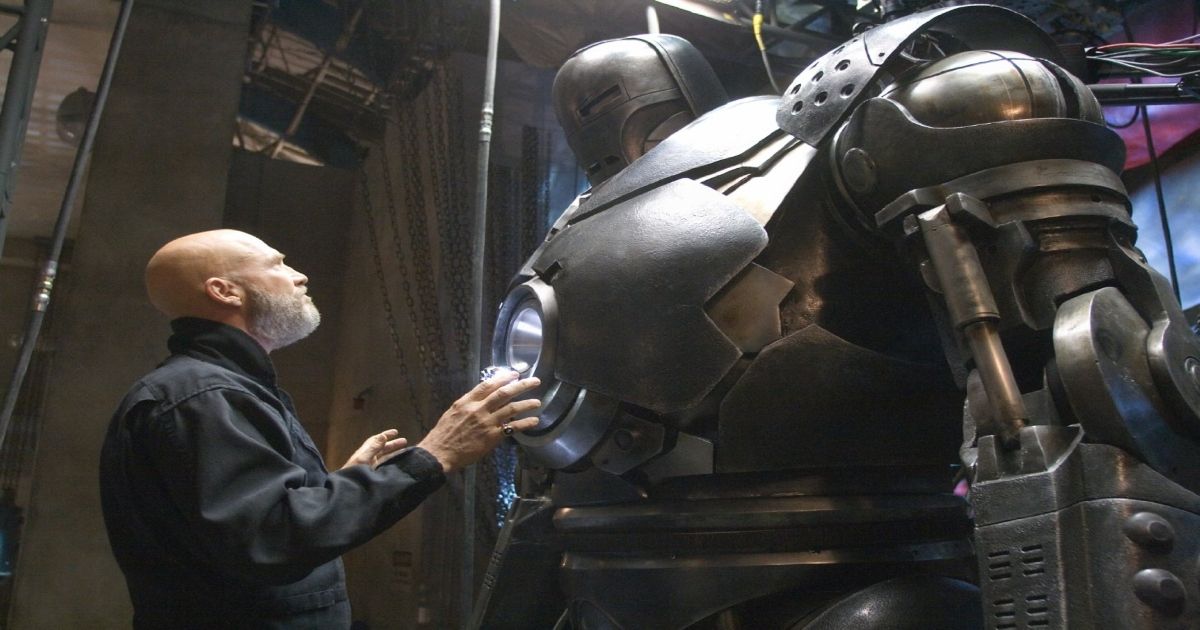 Getting the rare opportunity to demonstrate just how exceptionally he can portray a nasty villain, Jeff Bridges took on the role of Tony Stark's business partner, mentor, and old friend Obadiah Stane in the 2008 smash hit superhero flick Iron Man. In the adored Marvel staple, Robert Downey Jr. leads the picture as famed engineer and billionaire industrialist Tony Stark, who crafts a high-tech suit of armor after being held captive by a group of terrorists and subsequently escaping; he uses the powerful suit to fight crime and become the superhero Iron Man.
To prepare for the role of friend-turned-foe Stane, Bridges shaved his head bald, grew a beard, and researched the Book of Obadiah, discovering the theme of retribution was represented within its pages and also in his character. On playing the conniving villain, Bridges told Chron, "It's always fun to be the bad guy. I like to mix it up, so it was great… And I got to shave my head, which I always wanted to do. " Iron Man was a blockbuster hit, grossing over $ 580 million and becoming the first installment in the Marvel Cinematic Universe.
6

The Fabulous Baker Boys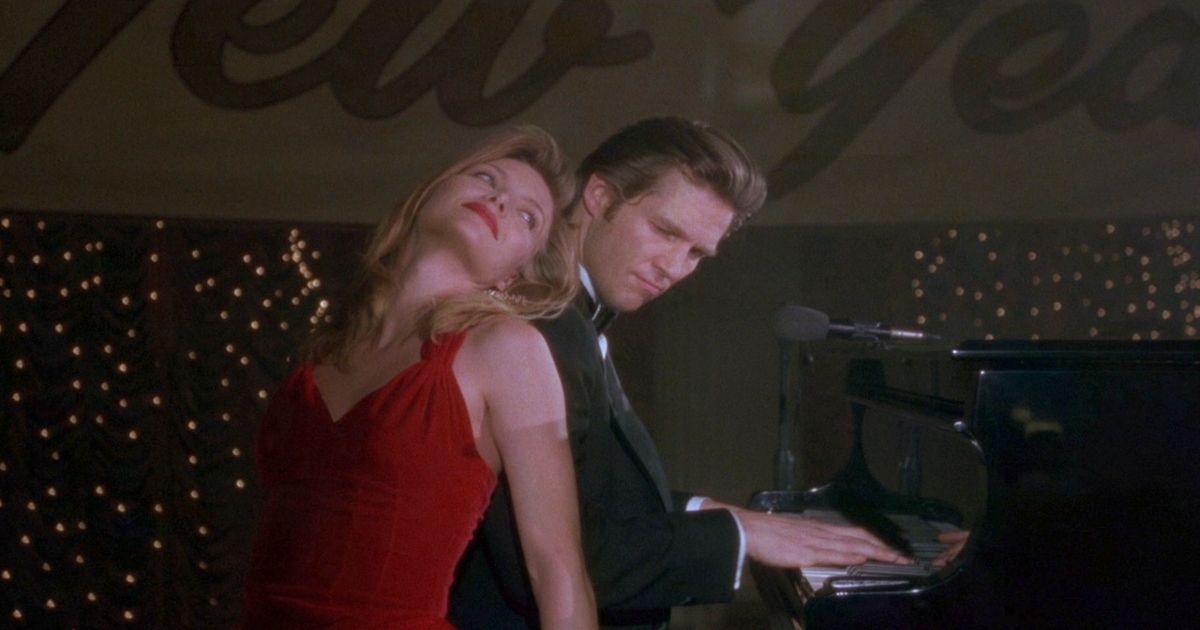 Steve Kloves directed the 1989 romantic dramedy musical The Fabulous Baker Boys, starring brothers Jeff and Beau Bridges as the eponymous piano-playing duo Jack and Frank, who hire a talented lounge singer named Susie Diamond in an effort to resuscitate their struggling career. Michelle Pfeiffer appears as the beautiful singer Susie, whose collaboration with the brothers causes trouble when she and Jack begin to fall for one another, complicating the trio's balance. Kloves also wrote the screenplay for the musical, having been enamored by "blue-collar entertainment – ​​people who work in the arts in a kind of working class way."
Jeff lobbied for his brother Beau to be cast alongside him in the film despite the studio wanting a more famous actor for the role, and he believes that acting alongside his real-life family helped make their characters' chemistry and relationship more authentic and convincing to audiences. The Fabulous Baker Boys earned critical acclaim, and Pfeiffer's sizzling performance of "Makin 'Whoopee" is considered one of the sexiest scenes in film history.
5

Hell or High Water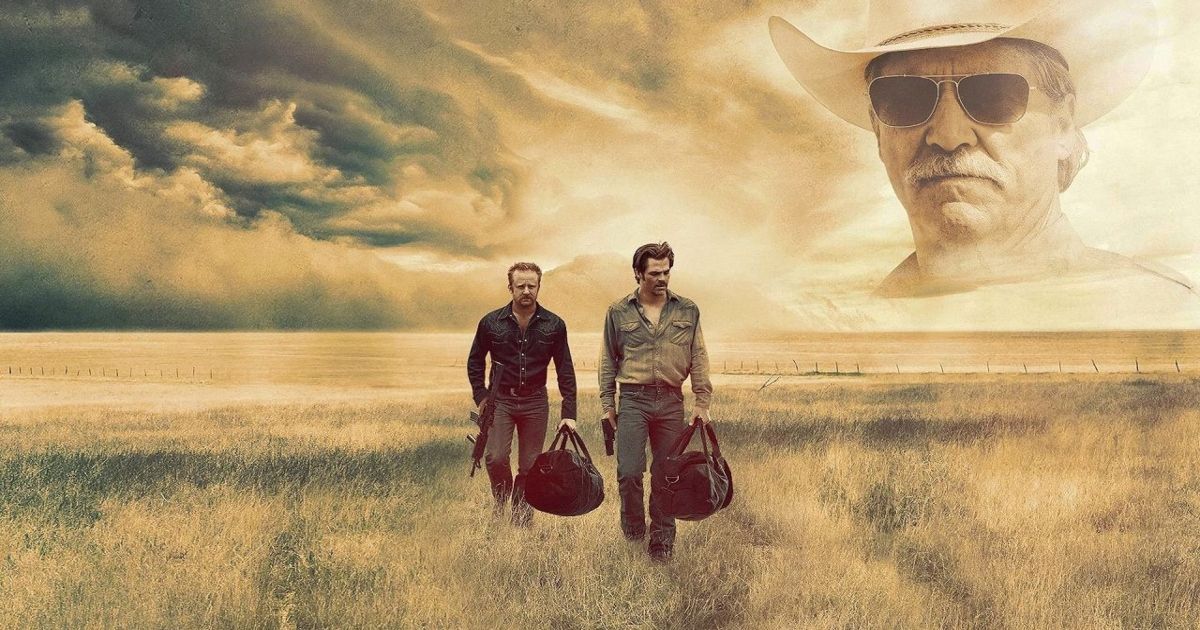 The 2016 neo-Western crime drama Hell or High Water features a superb ensemble cast including Jeff Bridges, Chris Pine, and Ben Foster, and centers on two bank-robbing brothers on a crusade to save their farm, all while being trailed by two steadfast Texas Rangers hot on their heels. Bridges stars as Marcus Hamilton, a Texas Ranger just weeks shy of his retirement who, along with his partner Alberto Parker, attempts to anticipate the duo's next move and bring an end to their crime spree.
Related: Hell or High Water Series Adaptation in Development
Upon its release, Hell or High Water was lauded for revitalizing the western genre and for the spectacular and gritty performances of its A-list leads; Bridges received his seventh Academy Award nomination for his rustic and realistic portrayal of the wise and weathered lawman. The Times UK called the edgy western, "A smartly crafted heist thriller that quietly peels back the layers from its macho male characters to reveal the pain and tenderness inside."
4

The Last Picture Show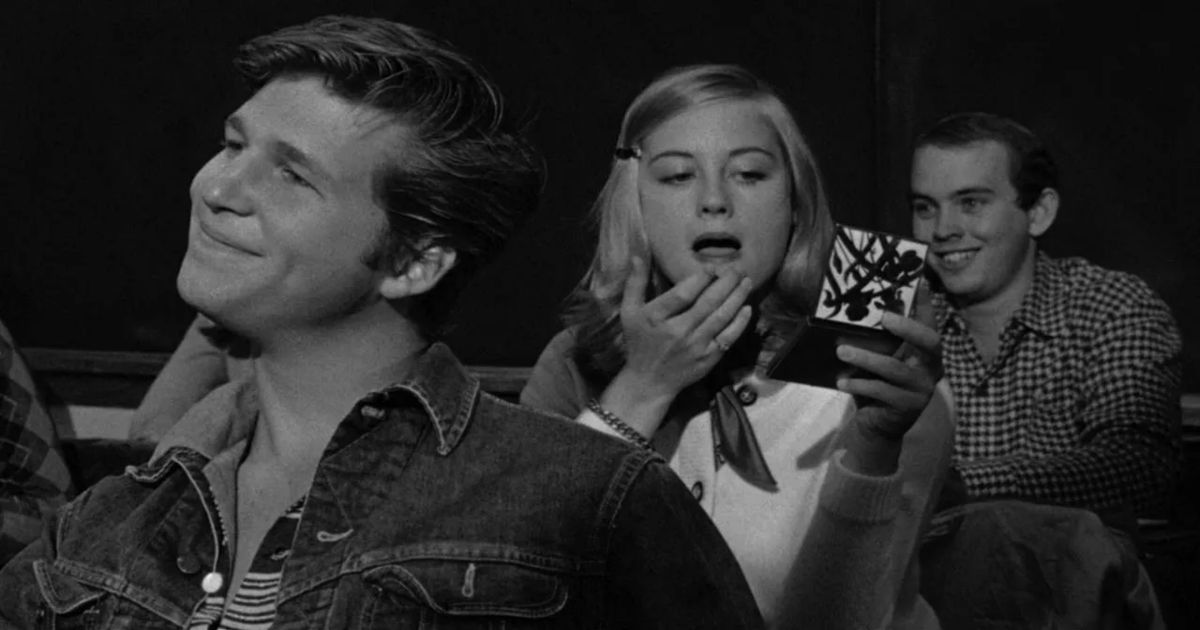 Nominated for an impressive eight Academy Awards, late great director Peter Bogdanovich's revered 1971 coming-of-age drama The Last Picture Show takes place in the small Texas oil town of Anarene in the 1950s. The film follows close friends and high school seniors Duane Jackson (Jeff Bridges) and Sonny Crawford (Timothy Bottoms) as they ponder what the future holds for them after their upcoming graduation. Football captain Jackson was the first major role for Bridges, for which he ended up earning his first Academy Award nomination for Best Supporting Actor and ultimately establishing himself as a prominent up-and-coming star.
Bogdanovich knew immediately that he wanted to cast Bridges for the part, recalling having seen the distinguished actor for the first time, "The part he played, Duane, was a real shi * head. Jeff was so inherently likable, I thought it would be a very interesting contrast, that he was a very likable person, but playing someone who is not likable at all. "
3

Crazy Heart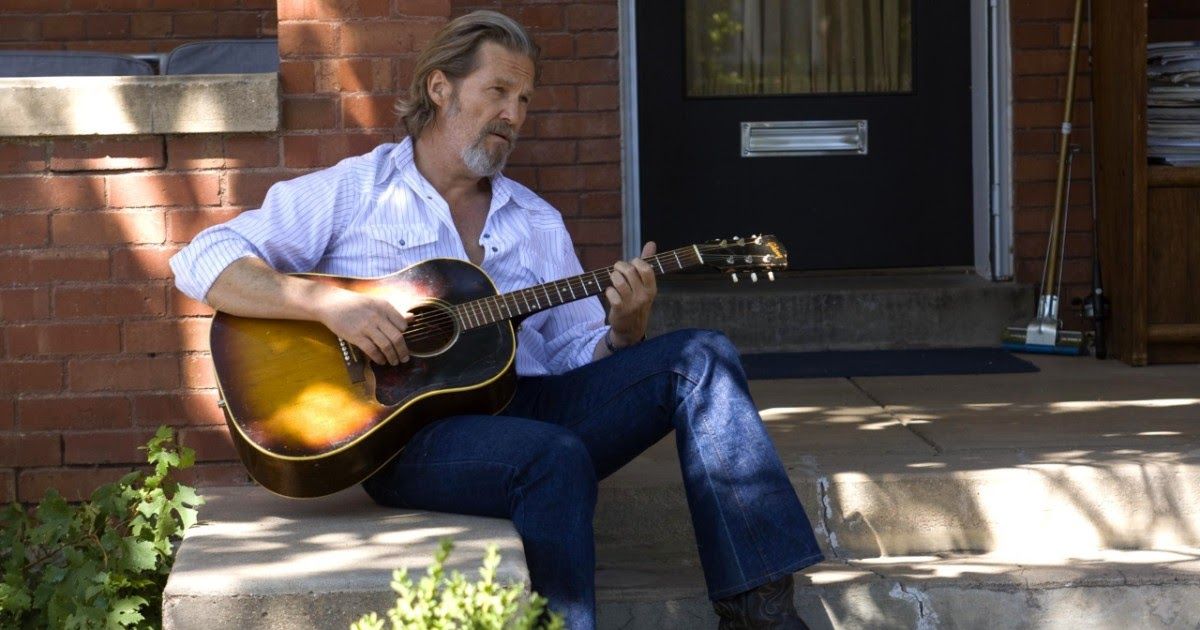 Jeff Bridges not only showed off his impeccable acting talents but also his musical prowess when he appeared as the down-on-his-luck country singer Otis "Bad" Blake in the 2009 drama Crazy Heart. Depicting the flailing performer's relationship with a kind-hearted reporter sent to do a story on him, the picture chronicles Blake's journey of self-discovery and growth as he battles to reclaim happiness that so expertly evades him.
Crazy Heart is based on the Thomas Cobb novel of the same name, with the character of "Bad" Blake being based on country music entertainers Hank Thompson and Ramblin 'Jack Elliott. Bridges went on to win the Oscar for Best Actor for his performance of the struggling alcoholic and country singer; this makes him both one of the youngest actors to ever be nominated for an Academy Award and also among the oldest to ever win (doing so at age 60). Empire Magazine declared, "A phenomenal, heart-breaking performance from Jeff Bridges powers this simple but affecting redemption story."
2

True Grit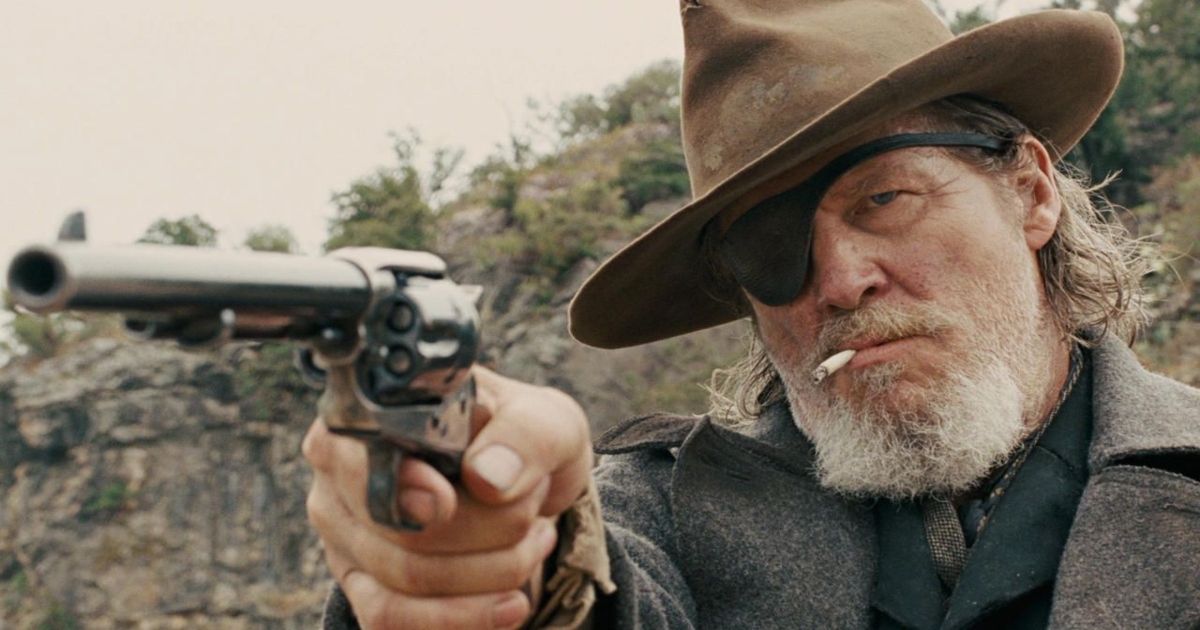 A remake of one of the best Western movies of all time and the second adaptation of the Charles Portis novel, 2010's Western film True Grit features the talent of performers like Jeff Bridges, Matt Damon, and Josh Brolin, and tells the gripping tale of a feisty 14-year-old farm girl (Hailee Steinfeld) who hires the drunk and stubborn US Marshal Rooster Cogburn (Bridges) to hunt down her father's murderer.
Related: Best Modern Remakes of Classic Movies, Ranked
Directed by the revered Coen brothers, the compelling picture was created due to the famed filmmakers wanting to deliver a more faithful adaptation of the novel, with Ethan Coen having said, "The book is entirely in the voice of the 14-year-old girl. That sort of tips the feeling of it over a certain way. I think the book is much funnier than the movie was so I think, unfortunately, they lost a lot of humor in both the situations and in her voice. " Bridges tackles the role of the gruff and boozy Rooster superbly, giving depth and a sense of endearment to the former John Wayne character; True Grit was raved about by critics and audiences alike and was the recipient of ten Academy Award nominations.
1

The Big Lebowski
Undeniably one of Jeff Bridges' most iconic and hallowed films to date was the Coen brothers' dark comedy from 1998, The Big Lebowski. The film features the actor as bowling enthusiast and LA slacker Jeffrey "The Dude" Lebwoski, who finds himself caught in the middle of a wild plot regarding the trophy wife of a wealthy man he shares his name with. Joel Coen expressed how the off-the-wall comedy is loosely based on the work of novelist Raymond Chandler, having revealed, "We wanted to do a Chandler kind of story – how it moves episodically, and deals with the characters trying to unravel a mystery, as well as having a hopelessly complex plot that's ultimately unimportant."
Bridges' delivery as the laid-back burnout with a heart of gold "The Dude" is without a doubt his finest, and his performance as the eccentric character helped The Big Lebowski become a cult favorite. On the enduring legacy of his beloved role, Bridges told Rolling Stone, "It's one of the few movies of mine that I watch on the tube. I'll always say, 'Well, I'll just wait until Jesus licks the bowling ball' or something, and then I get hooked and watch the whole damn thing. So you mean, like, if this is the only thing that people remember me for? Yeah, why not? Sh * t, why not? "
Stranger Things 4: Questions We Hope to See Answered
Read Next
About The Author